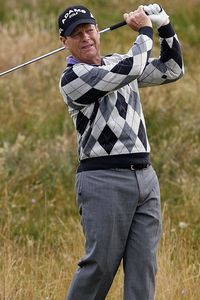 Tom Watson opened the Open Championship by shooting a 65 at Turnberry in the First Round.
Right now, first-time American golfer Steve Marino has taken over the lead with a 2-under-par 68 for the second-round.
Scenarios like the ones above are just two of the many reasons people love golf. It's the story of the 59-year old Tom Watson out shooting the young bucks. It's the reality of someone you haven't ever heard of coming out of nowhere putting their name in contention. Anything can happen! Everything is possible. It isn't always about Phil Mickelson. Tiger isn't dominating but don't count him out. Names of people who are discussed on a daily basis go out in the field and stay in the fields for people like Watson who's been on the Senior tour for years to make a statement.
I love golf for one reason and one reason only. The edge-of-your-seat playoffs. When Tiger was playing on an injured knee and still managed to bring the house down to win his last major, the US Open. It's moments like those you don't ever want to miss.