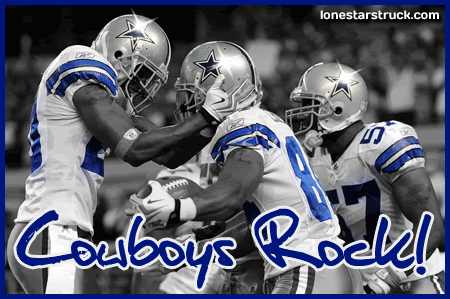 I'm sure you know by now but I'll reiterate it for the haters... MY DALLAS COWBOYS beat the previously undefeated SAINTS this past Saturday and in New Orleans. There was a snow storm in NYC but I weathered the storm to head to a local bar so I could see my boys. I could feel the Saints demise in the pit of my stomach after they barely beat 2 mediocre teams (Redskins & Falcons) their last 2 games and we had more than our fair of chips on our shoulders losing to both the Giants and Eagles, and of course the history of our record in December. Well we did it in story book fashion because not only did we get rid of that chip but we did what no one thought we could do and that makes it all the more better. Never underestimate my boys.
Miles Austin was a key factor, as he has been this entire 2nd half of the season.

So many people were saying during the pre-season that letting T.O. go was a mistake but I never thought that. I always saw the potential in Miles Austin, as well as Sam Hurd, and even said in pre-season that they should have been starting over Patrick Crayton and Roy Williams. Why did they not listen to me until the season was half way over about Miles... I'll never understand. They still haven't listened to me in reference to Sam. When will they learn?

I had inside information though. I had the chance to work with Sam before

and met Miles at the Pro Bowl in Hawaii in 2008. Both are a pleasure and both were apprentices of T.O. when he was in Dallas. They really looked up to him and studied his regimens, so I knew when it was time for T.O. to go they would be able to fill his shoes.

Its funny how I saw star power in both of them during that trip and now refreshing getting to see the football world recognize it as well.
Oh and since discovering that Miles is a cutie with those dreamy eyes all the ladies are taking notice now too...lol.
Even Jessica Simpson came out of her mouth and said something about him being a cutie and I want her to stay far far far away from any and all of my Cowboys. Thanks in advance Jessica. Go text Tiger Woods or something.
Either way, another one of my favorite Cowboys, Martellus Bennett (who by the way still hasn't given me the interview he promised me) allows fans to get to know Miles Austin via his MartyB TV. Check it out!